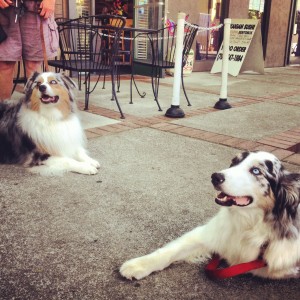 Yesterday Ben and I took off VERY early and didn't get home until 11:00 pm. In between we started off with meetings in Benicia, a walk for Ben in Benicia, then back to Vallejo for lunch and emails, then a jaunt to Yountville for a meeting and then to Walnut Creek for a Lafayette Chamber of Commerce Mixer. We had a very good night's sleep. (Check out Ben's new friend that we met on his walk!)
Today starts just about the same with a meeting in Benicia at 9 am and back to Vallejo for another meeting, then lunch and yes,  another meeting before heading to Yountville for the Chamber of Commerce Mixer at Jessup Cellars. I love my job!
Stretches, water the yard since it will be hot again today, feed and take Ben on a long walk, and off we go. . .