I am still tired from last week. I never stopped so this week is my down time! Right off the bat, it is a Monday since my constant companion, Ben has to go to the vet this morning. Over the weekend I noticed he was still licking an old wound – now it is a big hole! I was devastated and haven't been able to think of anything but that – so this morning we will head in to the vet and hopefully they will put my mind to rest.
We filmed our third video for Local Happenings Live at the Solano County Fairgrounds and we had a blast. Tower of Power never gets old and we saw so many familiar faces and old friends.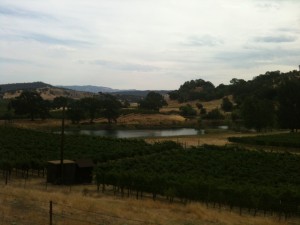 Saturday I spent all day on the back of a horse – one of my favorite places. You would think just the smell and spiritual nature of the horse would be enough; not so. The views and vistas you see from the back of a horse are indescribable. Try it – and imagine you have a camera in your eye and snap those memories.
SF Giants note – SWEEP!
Stretches, feed Ben and his partner in crime this week, Shogun, latte, water the yard and I'm gone  . . .