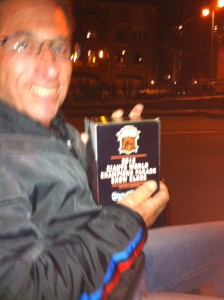 Of course I could be talking about two separate teams – The SF Giants or the Golden State Warriors. Both teams deserve accolades for such performances. The Giants came from behind and the Warriors completed what they have been fighting for all year. Congrats to both! (Lafayette Chamber member Michael Heller was so excited to get his confetti globe at the SF Giants game!)
Today I start early with a tourism meeting, then getting some writing done before heading  to Yountville and then off to Lafayette; a 3-county day! Wowza, Ben and I are going to be tired tonight.
No time for Stretches, feed and take Ben on a long walk, and off we go. . .