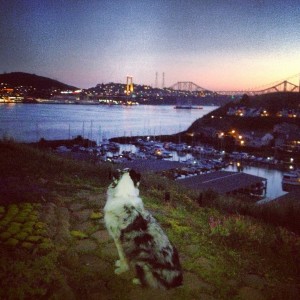 The weekend started off with a bang. Literally. A shotgun started the 20-30 Club's Fundraising golf tournament and we were off. My foursome won first place in the tournament, shock, shock and more shock. Then I raced to Yountville for the performance of "The Angels of the Valley" by Mars Lasar. What a fabulous presentation. Carmen Policy and Tom Gamble were such gracious hosts as well.
Saturday never stopped with family time in the morning, a run on the waterfront, and a neighborhood BBQ. I was exhausted, but I woke up bright and early on Sunday and went to church, once again experienced the fabulous waterfront for a walk and then came home and did yard work. I loved it. Then Ben and I went to a family BBQ and had evening cocktails enjoying the beautiful view that we get here in Vallejo. I can't wait for this weekend!
BIG stretches, water the yard, feed and take Ben on a long walk, and off we go. . .