You could try with The Leaven, or anywhere else

Over the years, we at Local Happenings have introduced you to a wide variety of organizations whose sole purpose is to better their communities, especially when it comes to the children. It's pretty incredible when you think about how many organizations are specifically dedicated to helping others who are in need, or less fortunate. We're proud to be able to help promote these organizations, if not just to give you an idea about what goes on below the radar. As positive news rarely makes the headlines, we do out best to help fill that void.
Despite so many nonprofits and community service organizations that are out there, there's a pretty significant lack of community support, relatively, across the whole spectrum. We've spoken to these organizations time and time again over the years, and we've noticed a very common theme: they're all in need of support. Specifically when it comes to volunteers and donations … Which is more important: volunteering or donating? It's a fine line, indeed.
Probably donations are the way to go. Right? Definitely helpful! But there are many grants available, and in most cases some of the larger businesses and/or corporations in town are often helping to support these humanitarian organizations. Not to discredit donating—if you're in a position to do so, do so—but it is arguably the easier option. Donating your time will feel like a much greater investment. If you've got some disposable income, making a donation is a great way to feel like you've done your good deed for the day, but the true effort, the love, comes from volunteering.
For example, say a local nonprofit is holding a major fundraiser. They need to be able to afford to put it on in the first place, sure, but what if all they got were donations and nobody showed up to help the show go on? They need people on the ground, at the event, helping to make it as successful as it can be. Helping to contribute toward a positive experience for attendees of these events, making people smile and feel welcome, so they're happy to donate to the cause, so they're excited to get involved because of all the great volunteers they meet, and so they look forward to coming back for future events.
Time is more valuable than money. Or not. But getting out of the house and taking on the responsibility of being a volunteer is a surprisingly infrequent activity. Think back, how many times have you asked someone: "So, where do you work?" A lot. We all have. But, have you ever asked someone: "So, where do you volunteer?" They'd probably turn their head slightly, like a confused cocker spaniel, responding accordingly to your ridiculous question. It shouldn't be a ridiculous question, but it does sound a little judgmental already. "Do you volunteer?" sounds a little friendlier.
Is volunteering a luxury? It's strange to think that, but many people simply don't have the schedule, or the budget, that allows for it. Totally understandable. But volunteering truly needs to become a stronger aspect of our lives. "Where do you volunteer?" should become a regular part of conversation. If not just for the greater good, but to remind us that in this severely divided nation, there are many good people doing very good things. If Facebook has been depressing you as of late, after a day of volunteering, chances are you'll be in a pretty good mood.
This isn't to preach. Everyone's situation is different and we all like to believe we do what we can. But it's something worth considering—implementing volunteering as a primary facet of your life. One day a week, two days a month, it's honestly something we should at least think about a little bit more. That's all.
Speaking of preaching, The Leaven is a local community service organization that happens to be grounded in the Christian faith. Its mission is to "share the love and compassion of Christ through acts of mercy and help to our neighbors." Its model is pretty simple: to target at-risk elementary-aged students in a proactive effort to prevent negative behavior before problems occur.
Based in Fairfield, The Leaven is all about impacting their local community. Whether it's in Solano, Napa or San Bernardino counties, including The Leaven's new Vacaville center—they've got the kids at heart. In fact, since the inception of the new Vacaville Center in May of last year—officially deemed the Alamo Gardens Leaven Center—the neighborhood, consisting of more than 800 Alamo Gardens residents, have made 47 percent fewer calls to the police for assistance and have filed 54 percent fewer crime reports. Coincidence? Maybe. Maybe not. But The Leaven has certainly made an impact. The Leaven credits this success to the ministers and congregations of their Vacaville church partners for rolling up their sleeves—you know, volunteering—to help the center open its doors, and for praying for change. Always helpful.
As the new year is fully upon us, The Leaven looks forward to some pretty exciting events like the Solano Great Race and their annual golf tournament. With plenty going on throughout the year, they're always in need of volunteers. These "volunteers" are also known as tutors, mentors, and friends. It takes a village to do pretty much anything these days, so if you're in need of a feel-good outlet, and are all about promoting Christian ideals, The Leaven could be a great place to get started.
They want you to know that volunteering with The Leaven demands no long-term commitments or quotas or anything like that. Even a few hours a month would make a world of difference. Doesn't sound like much, but in reality it'll be harder than you expect. So maybe challenge yourself, and your friends, to give a few hours this month. If not with The Leaven, then with another local service organization. Boys & Girls Club, YMCA, Relay For Life, you've got plenty of options. As The Leaven says, by volunteering you're giving back to the community and helping to change the lives of local children and families! And it's not an exaggeration. You really can make a difference. Forget making a difference on the national scale, and start thinking about your local community.
The Leaven makes it very clear that their board members are not employees, have zero conflicts of interest and receive no compensation. It's all clearly stated on a "Transparency" page on their website. Also, donations are not shared between branches of The Leaven. Each area is independently funded and any donations provided to a particular branch of The Leaven stay with that branch. An independent auditor reviews their financial records every year, publishing an audit that notes discrepancies, if any, and they file an annual report to the IRS that publicly communicates their finances and policies. 75 cents of every dollar donated goes directly to their programs. The other 25 percent of donations is reserved for administration, management and fundraising costs.
Some of the activities that would be involved with volunteering for The Leaven include homework assistance, tutoring, skills building, reading enrichment, nutrition and physical activity that promotes health in efforts to reduce obesity, and conducting programs like Zumba, Farm to Families, and cooking classes to help strengthen communities inside and out.
Farm to Families is a very proactive effort conducted by The Leaven. It's basically a neighborhood health program that they provide in partnership with Kaiser Permanente. Other community collaborators include the City of Fairfield, Solano Coalition for Better Health, Solano Public Health and Nutrition, BabyFirst Solano, and First5. This is a multi-faceted health program that promotes health and wellness to families in a variety of ways. First of all they provide health resources and materials to help educate families on healthy choices—including tips on health insurance, nutrition, stress management, and more. They also provide affordable fresh produce via a farmer's market, which also offers buy-one-get-one-free incentives. They administer health screenings like blood pressure checks and body fat screenings, and this year they plan to add additional health and even dental services.
Positive efforts conducted by The Leaven run deep. If you're at all interested and support their ideals then look them up at www.myleaven.com or call 855-622-5439 to learn all about what they've done and how you can participate. See if by the time our next issue comes out you can answer that aforementioned question: SO … where do you volunteer?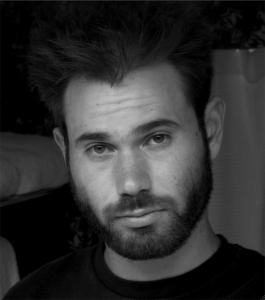 By Matt Larson
Matt is a writer/actor/comedian native to Vallejo who travels back and forth from Los Angeles way too much. He's desperate for attention and urges you to follow him on all social medias @MarsLegstrong.
He lives for likes, please keep him healthy.