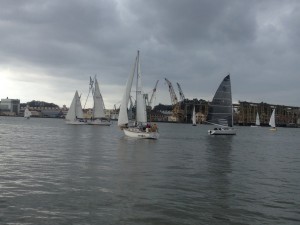 OK, OK, I took a little holiday. It was my birthday and I took a little mini-break. I traveled, ate, hiked, ate, had Lemon Drop Martinis, played golf, ate, rode horses, ate, drank some wine, ate, hiked, ate, sat on mountains, ate and then drank some more wine. The common denominator was the eating. Boy did I travel to some GREAT restaurants from Yountville to Carmel and everything in between. Got a little spoiled but isn't that what your birthday is all about?
So now I am back to work and over the weekend I was able to have some fun and work a little when I took time out to go to the Great YRA Race at the Vallejo Yacht Club. The sailboats were so beautiful and I met a lot of interesting people. It was a great way to get back into the swing of things.
Today I have a full schedule but I am really looking forward to it so, let it begin!
BIG Stretches today, water the yard, feed and take Ben on a long walk, and off we go. . .