A Deliciously Hidden Gem in Benicia
Here is a hidden gem in my hometown of Benicia—Whipt Baked Goods, and chances are that you probably have passed this new business without even noticing.
Whipt is located on East 2nd Street, in a white-colored building that is inside the Lee Professional Plaza. It is right next to the Benicia Cat Clinic and across the street from Rrags Caffe and Nation's Giant Hamburgers. When the white and pink Whipt tent is out, you will know it is open.
I want to first clear the air and let you know that Whipt is more than just a bakery––it bakes custom goods with local, organic ingredients and caters while also providing freshly baked goods during walk-in times. Of course, with Rosanna's European Delights and now Diana's Bakery on 1st Street, it may seem excessive to have that many bakeries in such a small city at first—but they are all unique in their own way, specifically in what they provide, and their locations (i.e., Diana's is right across the street from the Benicia State Capitol, while Rosanna's specializes in European goods and has been in Benicia the longest at its water-view location).
I experienced Whipt for myself during one of their walk-in Wednesdays on "Whipt Wednesday." I saw and was greeted by my new friend, Whipt's owner and creative mind, Krizelda Osada, though she goes by Krizy. I was also greeted by a friendly girl who told me about each of the gourmet goods in the display case, such as the blueberry scone that sounds even more amazing when warmed up. Other choices were gourmet "cookiecakes" like the red velvet cookiecake or the snickerdoodle cookiecake, beautifully garnished with almonds and drizzled with frosting—delicious art. The girl explained that the cookiecakes could also come "naked" (without garnish).
Out of all the choices, the Whipt French toast looked the best at the time since I had not eaten breakfast. I was also offered an iced coffee, and I immediately wanted that as well—very refreshing on a hot day. Without a long wait at all, everything was freshly made to safely take back home in a nice white box.
But before I left, Krizy let me try her summer chili, which she told me is "organic, from grass-fed cows." The chili was nice and warm with melted cheese, hefty chunks of meat, and a nice zing to it that was not too spicy—just the way I like it. She also gave me one her most popular goods, the chocolate chip cookiecake. From the very first bite, I tasted why they are so popular because I now want to order a dozen—try one and get Whipt!
In addition to the goods, what I like about Whipt is all the passion that goes into the business. Krizy works hard doing what she loves, and she was passionate about baking before even starting her business. "I baked through college," Krizy said, "as a way to decompress after stressful final exams. I baked with my nieces and nephews when they were little, as a way to share time with them. I baked through tough pregnancies to cope with the pain and nausea."
My favorite story was about how Krizy baked through the labor of her children. "My husband would try to hurry me out of the kitchen and into the car," Krizy said, "so that he could rush me into L&D at Alta Bates Hospital in Berkeley. For the labors of all three of my babies, I refused to go to the hospital until my batch of chocolate chip cookies were done baking, cooling and bagged up. At check-in for each of my children's deliveries, I would present my nurses with a bag of my fresh baked, homemade chocolate chip cookies. I was told everyone loved them!"
Whipt first started out as a home-based operation with a dream to expand, and working hard and building rapport with people really helped make that happen. Krizy was the first to get a Cottage Food Permit in January of 2013. "Being the first trailblazer within the Cottage Food industry gave me the stage to make some noise. The local news was interested in this new permit, what it would mean to the home-based baker's in California," Krizy said.
Krizy made connections with old and new local businesses to sell her goods with them, such as in the old candy shop that used to be on 1st Street in Benicia (anyone remember Spoonful of Sugar?). She also vended at my favorite coffee place, Moschetti Artisan Roaster in Vallejo, during their Saturday tasting events.
Her business really took off when she sold at the Soma Street Food Park, a place that had food trucks and live music in San Francisco. Krizy came up with a great idea to put edible graphics on her cookies. "I decided to put golden era hip hop and Bay Area legendary musician album covers on my cookies, as a nod to the local hip hop and DJ community," she said. "This nod would surprisingly sweep folks off their feet. It blew my hair back to see so many people flood my cookie booth with pure joy, excitement and even tears of joy as they dug through my cookie crates for their favorite album covers. What's more was that folks truly enjoyed the taste of my cookies!" Krizy made a lot of connections this way.
Whipt officially opened on February 26th, 2016 and recently celebrated their one-year anniversary. For its opening, Krizy said, "We hosted a blessing ceremony for a newly built Whipt Bakery and invited the neighborhood, local community, and everyone to partake. With the help of talented DJ friends & family, we gave away free Whipt Cookies and Philz branded coffee (thanks to the kind cup donations by Philz Coffee)."
Visit Whipt Baked Goods at 1440 East 2nd St. Ste A, Benicia. It is currently open most Wednesdays for Whipt Wednesdays from 7 a.m. to 4 p.m. Otherwise, it is open daily by appointment. For additional information and orderings, call (844) 44-WHIPT, email them at orders@whiptcookies.com, like Whipt Cookies on Facebook, or go to their website at whipt.myshopify.com or whiptcookies.com.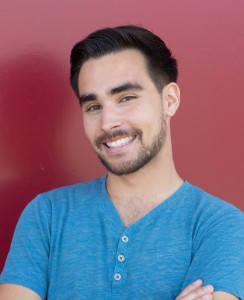 James Quinn lives in Benicia and teaches at Elmer Cave Language Academy in Vallejo. A UC Davis alumnus in English, he now studies education as part of Touro University's Master's in Education program. Along with teaching, he tutors and writes often. He is working on a novel that takes place in Benicia. See his website at mrquinnj.weebly.com.