What's Growing Out Back? Lamorinda's Uniquely Local Wines
As you drive along Highway 24 past the East Bay suburbs of Lafayette and Orinda, if you look closely (and quickly) on the north-side of the freeway you will spot a couple of small grape vineyards nestled in the hills. Exit the highway and take either of the main arteries—Moraga Road or Moraga Way—until they intersect and you will find another vineyard perched on a ridge overlooking Moraga's central shopping district. Over 100 vineyards dot the landscape throughout Lamorinda— the amalgamation of the Contra Costa County cities of Lafayette, Moraga, and Orinda. Yet most of the suburbs' vineyards are hidden from view from the passing car, tucked away in back on the sloping hills that define the area's terrain.
While much of Lamorinda's suburban space is already developed and other green space protected, many residential properties have hillside areas, from an eighth of an acre to a couple of acres in size, suitable for growing grapevines and little else. These are not the vast vineyards of Napa and Sonoma. Lamorinda's grapes are growing right in residents' backyards. "That is what makes our winegrowers so intriguing," says Susan Captain, President of the Lamorinda Winegrowers Association. "We are suburban farmers."
You can catch a glimpse of Bill Scanlin's vineyard from the BART station in Lafayette. He planted the 585, mostly cabernet, vines that traverse his backyard 14 years ago. "We have a southern exposure and I thought the vines would help control the weeds and erosion and provide a nice backdrop," says Scanlin. Known as Deerhill Vineyards, aptly named given the deer that often graze the empty lot just outside his fenced yard, Scanlin's grape crop fills three large oak barrels in a good harvest, enough for 900 bottles of wine.
Scanlin makes his own wine, managing the entire process from picking and crushing the grapes to fermenting and bottling the wine. Along the way he has taken over parts of the family's rec room and garage to house the operation. In 2009, Deerhill Vineyards became a bonded winery, which enables Scanlin to sell his wine. "Using my own locally-grown grapes is what makes the winemaking interesting for me," says Scanlin. "We became a bonded winery with the aim to offset some of the costs of my interest," he adds smiling.
Lamorinda's history of winegrowing—cultivating grapes and producing wine—dates back over 125 years. Those old vines are long gone, but there has been a resurgence in winegrowing over the past decade. Susan Captain and her husband Sal, who own and operate the commercial winery Captain Vineyards in Moraga, attended the first gathering of the Lamorinda Winegrowers Association ("LWGA") back in 2005 when they were just getting established as vintners. "There were about 15 growers there," says Susan, "And we were really excited about the uniqueness of locally-grown and produced wine from Lamorinda." As word spread, more and more vineyards started popping up in the area, and today the not-for-profit LWGA has 75 members.
Most of Lamorinda's winegrowers are oenophiles with a hobby. They grow grapes and make wine for their own consumption and to share with friends. Without the demands of a commercial venture, they are free to grow the grapes they want to make the wine they like.
Tom Morehouse's vineyard in Orinda has 208 vines split among three varieties: ½ syrah, ¼ mourvedre, and ¼ grenache, so he can make a southern Rhone-style blend, a light red that he finds pairs well with many dishes. The grapes make a winning combination, but his suburban vineyard has its challenges. "The ideal location for a vineyard is a southern exposure," says Morehouse, "Mine faces north. But my house is where my house is." While he might prefer a bit more sun, Morehouse produces wine that both he and many friends enjoy.
As grape growing and wine making has found its niche in Lamorinda, the growers have formed a loose network and often collaborate. The 300 vines in Mary Leigh Miller's backyard in Moraga abut directly with her neighbor's similar-sized vineyard up the hill. The neighbors work together and recruit friends and other growers to help with the harvest. Miller combines her sangiovese grapes with the cabernet and syrah grapes from another vineyard in Lafayette and outsources the wine production to an Orinda-based vintner. The end product according to Miller is a "super Tuscan".
"From the outset our mission has been to support each other to grow the best grapes and make the best wine that we can," says Susan Captain. The area's temperate climate with cool evenings and hot summer days, less foggy, wet and cold than its neighbors on the west side of the Caldecott Tunnel, is just right for a number of grape varietals, particularly reds. The heavy clay soil and sandstone base drains well due to the steep hillsides, and there is limited risk of frost or early rains, which provides a long growing season for the red grapes that prefer an extended time on the vine. "Our wines have a distinct taste because of our unique location and climate," adds Captain. To further establish the area as a distinct winegrowing region, the LWGA is working toward Lamorinda's designation as an American Viticultural Area "AVA".
"It's all about quality, I want to make wine of really great quality," says Paul Coletta, one of Lamorinda's newest winegrowers. So when he decided to add a vineyard to his Orinda property, he did his homework. Before choosing what varieties to plant, he carefully analyzed the climate patterns and had the soil tested. Paul is an expert on food branding and serves on the Executive Board of the Robert Mondavi Institute for Wine and Food Science at U.C. Davis, so he also tapped his colleagues to help him choose the best grapes to grow in his vineyard. Coletta lives on a semi-circular ridge, which creates a warm, sunny buffer for his 500 syrah and viognier grapevines. The first bottle of this classic northern Rhone blend from Coletta's Humblebee Vineyard will be ready to drink in the spring of next year.
A nascent cottage industry has begun to emerge as winegrowing has taken root in Lamorinda. Today, there are six commercial wineries in the area that sell their wines online and at local wine stores and restaurants. But the volume of wine produced is limited. The maximum capacity of the two largest bonded wineries, both located in Moraga, is about 1,000 cases each, a tiny fraction of what commercial wineries in northern wine country produce. Huge profit is not the goal. Winegrowers in Lamorinda who have commercialized their ventures aim to cover their costs and then enjoy their uniquely, local wine.
"Lamorinda is the perfect location for a boutique winegrowing region," says Dave Parker who runs the bonded winery Parkmon Vineyards with his wife Shari from his home in Moraga. "The goal has never been to become another Napa," says Parker. "The vision is to produce hand-crafted, artisan wines," says Shari, finishing his thought. "It's a co-op concept. It fits the local culture."
Lamorinda Wines—Judges Take Notice
"Contra Costa County may not be as well known for winegrowing as some of the other regions in the area like Napa, Solano or Medocino, but there are many places in this county well-suited to produce high-quality grapes and world-class wines" says Dave Parker the owner of Parkmon Vineyards in Moraga.
Already several wines from Lamorinda have been recognized at club and regional wine competitions. The wines from Parkmon Vineyards have medalled each year for the past four years in the San Francisco Chronicle Wine Competition. Most recently Parkmon's 2008 Sangiovese won Best of Show in the Contra Costa Winegrowers Commercial Wine Competition.
"We were excited to enter our wines in this competition which was exclusive to varietals grown in Contra Costa County," says Parker. Parkmon's Sangiovese grapes were sourced from Koelmel Vineyard in Lafayette, one of the older vineyards in Lamorinda, established about 15 years ago. Parkmon's 2008 Petitie Verdot also won a gold medal in the competition and several other wines from the winery received silver and bronze medals. Parker is very pleased with the recognition his wines received and hopes this will help spread the word about Lamorinda's wines. "We are a small close-knit winegrowing community, and we support and promote each other," says Parker, "I think that is how most successful winegrowing regions get started."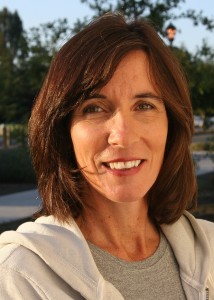 Andrea Firth is a freelance writer based in Moraga with her husband, two teens, and a dog named Pepsi.