I have always been fascinated with the history and architecture of the ages in Europe. I read many stories as a teenager and young adult that would keep my overactive imagination alive with visions and thoughts of what the historic castles looked like or what it would be like to live in one. I always felt that I was alone in my level of fascination. Boy was I wrong.
I remember reading many years ago of Dario Sattui's dream of building a castle on hillside property in Calistoga. Dario was, of course, famous already for his V. Sattui Winery in St. Helena and this, according to the article, was a passion or obsession of his. He has gone beyond the borders of sanity, some would say, to bring his vision to reality. I, of course, am in love with his passion since I too believe in going to the borders of sanity to live true to one's self.
As I reread Dario's quest to bring a little Italy to his beloved Napa Valley I was once again struck by the drive of this man and how he must tackle everything he does in life. He forged ahead with his quest and never looked back at the expense of his personal and business life. So, now because of one man's unwillingness to compromise, everyone gets a chance to come view a little piece of Europe in the Napa Valley.
Castello di Amorosa or, as it is fondly called, "The Castle", stands out along the backdrop of the Calistoga hillsides like a jutting fortress from medieval times. Almost twenty years ago when Dario Sattui bought the 127 acre piece of property, there was a stream, a lake, a forest and a Victorian house and not even a dream of what it was to become. When Sattui bought it, he had no intention of putting a winery on it, it was merely going to be his dream home and the thought of planting historic vines wasn't on his mind. Having already bought ancient property in Italy and after he visited Patriarch Cellars in Burgundy, France, that thought changed. Patriarch Cellars contained over seven acres of underground cellars and rooms and is over 200 years old; Sattui was in heaven!
Over the next several years he traveled extensively in Italy finding masons and builders that could help him realize his dream. He also bought properties that he is currently refurbishing and expanding other passions. After fifteen years of research and, I am sure, some tireless travel and some anguish, Dario was ready to start building his castle.
At this point I would like to mention that Castello di Amorosa was intended originally to be an 8,500 square foot winery; it is 121,000 square feet.
Though Dario almost lost everything, he kept building. Loans from banks and his other winery held everything together until they could finally open on April 7, 2007. Without knowing how the wines or the castle would be received, he, and I am sure his backers, worried. It ended up being needless though since the castle has proven to be quite the success with tourists and residents alike.
The wines of Castello di Amorosa are quite extensive. Red, white, sweet, rose, reserve and even non-alcoholic wines are on the lists. On our tour we decided to try the reserve wines but they have many different tours and packages you can try.
With 14 Tasting Rooms at the castle, I wasn't sure where I would end up but I was escorted to their Club Room, fondly called Il Passito Reserve Room. Just getting to the Tasting Room is an adventure and you can see that a tour is a must!
We were introduced to our official "Reserve Room" host, Patrick Gallagher, and immediately felt at home when he made sure that Ben had a place at the table. (The Castle is dog-friendly, much to Bens and my surprise.) Patrick made sure that he felt comfortable with what wine I liked and what I would like to taste during my adventure here. I have to admit; sometimes if there is a huge wine menu I get discombobulated with indecision. Since I am not a white wine drinker, I brought a white wine proxy with me. Patrick made sure I felt right at home with my choices, but he did tell me that he was going to have me at least smell the whites.
Pinot Grigio
His first pour was Pinot Grigio, which I normally do not drink. I decided to go outside my comfort zone and try the whites.  The Pinot Grigio was light, crisp and oddly refreshing.  I haven't ever consumed Pinot Grigio so I am not sure if I would like other Pinot Grigios, but I would definitely have this one on a hot summer day sitting on a patio.
Official Tasting notes: A crisp, dry white wine made in the Italian style with a fragrance of aromatic herbs and a hint of mineral and earth in the nose.
Chardonnay, Napa Valley
The second pour was a Napa Valley Chardonnay. Once again, I am not a Chardonnay wine drinker so I had my proxy try this wine. Pat's suggestion that this Chardonnay was lighter than regular ones, not buttery and oaky like other Chardonnays did make me a little curious so once again I jumped in. Their Napa Valley Chardonnay was also more refreshing than I would have thought. Once again I found myself saying that I could see myself having a glass of this on a hot summer day at a BBQ.
Official Tasting notes: This pale, straw-colored wine shows a toasty oak and buttery bouquet opening up to aromas of ripe citrus, pear and grapefruit.
Pinot Bianco
I now found myself getting a little comfortable with the idea and thought that I would be drinking some white wines. I found myself listening to what another group at a larger table was saying about this wine.  Everyone seemed impressed with this wine so I jumped right in with my nose first. I really liked the smell of this wine, but this would not be my first choice if I were to change and buy a bottle of white wine. I liked the crispness of the other two wines a lot more.
Official Tasting notes: Medium, straw-yellow color with an aroma of almonds, bananas and apricot.
Gewurztraminer
The description of this wine intrigued me. Spicy and full bodied, in a white wine? Once again I was quite surprised by this wine and would have to say that if offered, I would have a glass of this.
Official Tasting notes: A drier, spicy white wine known for its exotic aromas of cinnamon and cloves, lychee and perfumed rose petals; full-bodied in texture with prominent spicy flavors.
Il Brigante – "The Thief"
The name of this wine made me want to name this my favorite. Since this was my first red wine pour I would have to say that I was definitely biased. I am not sure if it was fair of me to judge this wine at that time since I had been drinking white wine for a good part of the previous hour. I took a small break and came back to the table and had another taste. Yes, I still liked it so thumbs up it was!
Official Tasting notes: Pretty aromas of red currant and black cherry mingle with black fruits with a touch of earthy, cured meat aromas that frame the wild berry flavors and toasty oak on the palate.
Cabernet Sauvignon
The next pour was this red before we dove into the reserve wines. The color was nice and it was a lovely "light" red wine. I prefer my reds bolder and with a much bigger bang. I believe that someone who is not a big red wine drinker would like this.
Official Tasting notes: Intense aromas of black plum, cassis and green olive with a spicy bouquet of cigar box, cinnamon and nutmeg.
Reserve Wines:
Chardonnay, Bien Nacido
I had actually tasted this reserve wine when I tasted the other white wines. I tasted this with gusto since I had had a good experience with the other whites. I am not sure if it was timing (your palate changes throughout the day) or if I was just ready to jump to the reds, but if I had to pick a Chardonnay I would have picked the previous one.
Official Tasting notes: An elegant dry wine, with toasty vanilla and peach aromas and fruity flavors of pear and tropical fruit.
Pinot Noir
My second red pour was this Pinot Noir with the grapes coming from the Anderson Valley. Again, I am usually a big, bold red wine drinker so this Pinot was a little light for me, but I liked the flavor and could see myself drinking this on occasion.
Official Tasting notes: Not available; you must try it for yourself!
La Castellana (The Lady of the Castle) – Super Tuscan Blend
When this wine was poured I loved the color and smell of this wine. I was very impressed with this choice, it had a full bodied taste and I could see myself drinking this with a Filet Mignon dinner.
Official Tasting notes: La Castellana (The Lady of the Castle) is an elegant, complex wine, with good depth, volume and balanced with very velvety tannins providing length and a smooth, lingering texture.
Il Barone Cabernet Sauvignon
After just having tasted the "Lady of the Castle" I was very excited to taste their Reserve Cabernet. I have to say I liked it, but found myself thinking that La Castellana was my top pick for the day. When I told this to Pat, he said he was not surprised since Il Barone will get better with age and La Castellana is great now. I am definitely one of those people who buys for today and not to lay down for tomorrow – so The Lady gets my top vote!
Official Tasting notes: A very flavorful, elegant and structured red wine in the style of high-quality.
Castello di Amorosa combines traditional wine making methods with technologically advanced wine making equipment and techniques. As a result, the wines show intense flavors which are eloquently balanced and similar to the hand-crafted wines produced in central Tuscany and Umbria regions of Italy- the homeland of Dario Sattui, who is fourth-generation Italian.
All of their red grapes are grown in the Napa Valley around the Castle. White grapes are grown in the Carneros district of the Napa Valley or in the Anderson Valley, as both of these cool areas are ideal for white wine grapes. Some grapes are also purchased from select growers.
Brooks Painter, a veteran winemaker of more than 30 years, along with Associate Winemaker, Peter Velleno and famous Italian winemaker, Sebastiano Rosa, presides over all winemaking production. His goal is to make delicious, classically structured, intensely flavored, well-balanced, elegant wines which showcase the terroir of each unique vineyard site.
You can tour the authentically-styled, 13th century, Tuscan castle and winery led by a knowledgeable guide. All tours feature a barrel tasting and include a complimentary tasting of our current releases. Tours are approximately 1-3/4 hours in length. The walking portion of your tour is approximately 60 minutes followed by a 45 minute private tasting of their handcrafted Italian-style wines. Reservations are highly suggested. You may place those reservations by calling (707) 967-6272 or going directly to their website at www.castellodiAmorosa.com.
There are also various wine clubs you can join that customize your wine needs and also meet other castle aficionados at their wine club events.
Castello di Amorosa Winery is located off of HWY CA-29 in the northern part of Napa Valley, between St. Helena and Calistoga. Castello di Amorosa is not visible from the roadway – please look for their sign and for the address 4045 North Saint Helena Highway, Calistoga, CA 94515.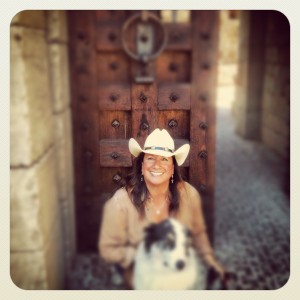 Deanna Baillie and Ben, her Australian Shepherd, love going wine tasting. On their trip to Castello di Amorosa, they made many new friends. They invite you to keep up with them on their blog at localhappeningsmagazine.com.