Watch for Black Chicken

A few years ago I was at a dinner with several friends where we all had brought bottles of wine to share. One of the guests sitting next to me had brought a bottle of wine that was soon to become one of my favorites, Biale Black Chicken.
Never having heard of Black Chicken before, I had no preconceptions of how this wine should taste or what the bottle actually cost. Would it be good, great or fabulous? Well, my all-time favorite wine is always a red blend, something with Cabernet, Cab Franc, Merlot or Bordeaux. I like Merlots, Chiantis, Pinot Noirs and Sangiovese, but I love Cabernets and Zinfandels. When I first tasted Black Chicken I thought it was a blend of some kind, smooth and full of flavor. I was surprised to learn that it was a Zinfandel because it was so smooth and I was used to Zinfandels being a little more robust and spicy. I had taken the turn in the road to find the Black Chicken!
The road was not a straight one. Though I had lived not more than 15 minutes away from Black Chicken home winery all of my life and had even bought my annual Christmas tree from a farm right down the street, I'd never noticed the signs before. After my initial tasting of Black Chicken I was soon asking my friends Dennis and Connie Klimisch (the culprits who have made me a slave to this red wonder that night I first tasted it) to bring their Black Chicken whenever we were doing dinner. It was definitely a treat and I was having an affair with this dark red wonder.
A few years ago when we were planning the first issues of Local Happenings Magazine it was a no-brainer to have a wine article in each issue—our entire family and all of our friends are winos. We scheduled out the stories and within a couple of issues, wineries were asking us to feature them in our colorful publication. Then one day I was driving down Big Ranch Road in Napa to a client and I drove right by the Biale Winery sign that I had, of course, seen many times prior but never put it together that this is the Black Chicken winery. Simple and nondescript, you can pass right by and not know it, but when I saw it I yearned to go down the simple lane and see what I could see. One thing you should know is that you have to have an appointment to come to the tasting room. It is a small, intimate family winery that guards its privacy well. I drove out on to Big Ranch Road again and decided I needed to know the story of "Black Chicken."
To tell the story we need to go back a little to a simpler time in winemaking history.
The Biale family, immigrants from Northern Italy, began growing Zinfandel grapes in Napa in the 1930's. Biale Winery's fruit was sold for bulk "jug" wine. Their small farm produced its share of prunes and walnuts along with eggs and vegetables.
OK, I'm still not getting "Black Chicken"! Patience Deanna.
I called up the tasting room manager, Austin Pitzer, and asked if I could come interview the family and do a story on the winery. I soon was sitting on the veranda of the tasting room overlooking the famous vines and the entire Napa Valley. It is amazing how close they are to town and yet so far. Austin and I got comfortable in very large rocking chairs and he told me that we were expecting the owners to join us. I was so close to knowing the story I could feel it. Little did I know that the story would come from a small, Italian matriarch, Clementina Biale. Clementina was wife to Aldo, original owner and the heart behind Black Chicken.
March 1954
"I had only just arrived from Italy, only two weeks had I been here and my husband would deliver eggs and wine from our farm. Customers would call in their orders and I answered the phone and took an order for 'two dozen eggs and a black chicken.' I told them we didn't have black chickens, we were on a party line back then and then I asked my husband why they would order a black chicken when we didn't have any. That's how I found out that "Black Chicken" was the code word for a gallon of wine!"
This is just one of many stories I am sure of how Black Chicken and the Biale Winery came to be. Aldo Biale was an Italian immigrant living in Napa and had a small farm with his mother, which sold eggs and homemade wine to their fellow Italian neighbors.
Committed to the tradition of farming grapes, the Biales decided in 1991 to form a partnership with the goal of producing a world-class wine from the oldest Zinfandel vines on the ranch. The team: Al Perry, winemaking; Dave Pramuk, Marketing; Aldo and Bob Biale, farming. The wine, named after longtime farmer Aldo Biale, was called "Aldo's Vineyard".
The inaugural wine from "Aldo's Vineyard" was a quantity of 400 cases produced from about eight acres of 60-year-old vines. Now, 12 years later, Biale is recognized internationally as being among California's very finest producers of Zinfandel. This wine was recreated in 1999.
In 2009, the Black Chicken was recreated and there was a special bottling of "Bravo Aldo!" Aldo was the first to "fishspear", a procedure that punches down the stock which allows you to blend the skins and stems without tearing. This creates deeper textures. This wine represents a tribute to Aldo.
Biale Wine grapes are grown on site and also a couple miles away. The Oak Knoll District has a very cool, long season. The Biale library consists of 14 different Zinfandels and four Petite Sirahs. (Petite Sirah grapes are related by history – but that's another story!)
"Zinfandel grapes are unique in that no grape expresses itself from place to place like a Zinfandel. There is a big difference of the Zinfandel grape on different ranches right here in Napa." Dave Pramuk adds.
We must remember that Napa is only 2% Zinfandel and accounts for only 4% of the world's wines – that is how special Biale Winery is since they have the biggest Zinfandel of the valley.
Steve Hall, winemaker, started work after the original winemaker retired in 2008. He was already a fan and friend of the Biale Winery, so it was a compliment to be asked to join the team.  A Cabernet winemaker by trade, the Biale Zinfandel wine was already in his blood.
"Zinfandel becomes more intense closer to Napa because they have thicker skins," Hall says. "The best way to describe it is that Zin is more masculine in Napa and Cabernet is more feminine and soft here in the Valley. Cabernet has more regional flavors of different climates and Zinfandel has completely different status from ranch to ranch."
We had set up a wine tasting to compare some of their famous Zinfandels. They poured a 2009 Black Chicken, 2009 Old Kraft Vineyard Zinfandel, 2009 Monte Rosso and 2009 Grande. I must say I was totally surprised to find out there were other Biale Wines that I actually liked as much, or better, than the Black Chicken. Could that be possible? (See sidebar for complete tasting notes and menu ideas.) It didn't stop there though, when I went to their release party in September there were three or four more wines that I liked as well.
What really struck me was how in tune this winery and founders were to their home and neighboring ranches. I grew up in a very tight-knit family and this is how the Biale's seemed to me with their arms embracing their neighboring wineries.
At Biale the estate vineyards comprise 30 percent of the winery's wines. The majority of their wines are sourced from other family vineyards throughout Napa and Sonoma Valleys that share the same dedication to farming for quality that they do. Here are the ranches that are currently being used:
Aldo's Vineyard. Oak Knoll District Estate. The old vines planted in 1937 on the Biale ranch in Napa produces their signature wine.
The Biale Ranch (a prime source for Black Chicken grapes). Oak Knoll District Estate. "Black Chicken" was for the old code name for Aldo's secret Zinfandel, younger vines behind Aldo's home.
Grande Vineyard. Napa. Planted in 1920 on Napa's Silverado Trail, named for the Italian immigrant father of Dorothy Rossi and the grandfather of Tony Rossi – Theodosio Grande.
Stagecoach Vineyards. The Biale Block. Napa Valley. The four-acre Zinfandel site planted at this acclaimed mountain ranch above Oakville. Aldo's and Old Crane clones on St. George rootstock.
Old Crane Ranch. St. Helena Appellation. Planted on west St. Helena's gravel-rich soils in the 1880's by Dr. Crane, a Napa Valley pioneer.
Old Kraft Vineyard. St. Helena Appellation. Planted in the 1890's and rescued and restored by Bill and Margie Hart.
Varozza Vineyard. St. Helena Appellation. Jack Varozza continues a family tradition at this historic site along York Creek.
Falleri Vineyard. Calistoga Appelation. Sonja Spencer's one acre planted by her grandmother in 1924 in the town of Calistoga near the hot springs.
Valsecchi Vineyard. Carneros Appellation. Century-old vines near the town of Sonoma once farmed by Ron Mick's grandfather John Valsecchi.
Monte Rosso Vineyard. Sonoma Valley. Legendary mountain vineyard farmed by the Louis M. Martini family for three generations and now owned by the Gallo family.
Moore Vineyard. Napa Valley. Scenic and historic vineyard preserved by Bill Moore near Coombsville in Napa along Hagen Road first planted in 1905.
Rockpile Rocky Ridge Vineyard. Rockpile. The Rockpile appellation has quickly become renowned for its great Zinfandels. The fifth generation Mauritson family is leading the way.
Pagani Ranch Vineyard. Sonoma Valley. The Pagani Ranch in the Sonoma Valley is an iconic landmark for lovers of Zinfandel. The fruit from century old head-trained vines is prized by winemakers.
Biale is also home to Petite Sirah. With four Petite Sirahs on their order form, this is not just a passing fancy. They also produce red blends and Zinfandel using Petite Sirah. Here are the ranches for this varietal:
C.C. Ranch (Carpy Connolly Vineyard). Rutherford Appellation. This vineyard, in the heart of Rutherford, produces Petite Sirah with the substance, character and finesse this appellation has made famous.
Thomann Station Vineyard. St. Helena Appellation. St. Helena's soils and sun are a perfect haven for Petite Sirah. Power and precision are the hallmarks of the Thomann Station vineyard.
Palisades Vineyard. Calistoga Appellation. Calistoga's eastern bench is home to the great Palisades Vineyard where head-trained vines on an old creek bed produce Petite Sirah as dramatic as the setting.
When visiting Biale Winery, wine will not be the only thing you get a chance to buy. Thanks to Clementina Biale you can also own your very own Black Chicken apron. I bought two, one for my sister-in-law, Regina and the other for my mother, Genevieve. Both were received with genuine admiration for the handiwork and bright vivid colors. These are a must for the cook and/or gourmet in your life.
Biale is a genuine family winery that makes you feel right at home and special as soon as you get there. The tasting room is open only by appointment since it is an intimate winery, so call for your tasting at (707) 257-7555. The winery is located at 4038 Big Ranch Road in Napa.
Bob Biale said it best when describing Biale Winery, "We have always considered ourselves part winery, part farming and part historic preservation society."
Wine Tasting – The Wines:
2009 Black Chicken Zinfandel – Food recommendation from Bob Biale: "Anything Gorgonzola!"
2009 Old Kraft Vineyard Zinfandel – Food recommendation from Dave Pramuk: Grilled Lamb or very rare beef.
2009 Monte Rosso Vineyard Zinfandel – Food recommendation from Steve Hall: Grilled Italian sausages, zucchini or eggplant.
2009 Grande Vineyard Zinfandel – Food recommendation from Bob Biale: Lamb Stew with polenta.
Taster #1 – He rated the 2009 Grande as his favorite, The Old Kraft was his second choice, Black Chicken was his third choice and the Monte Rosso coming in fourth.
Taster #2 – She rated the 2009 Old Kraft Vineyard as her favorite, the Grande came in second, Black Chicken came in third and Monte Rosso was fourth.
Taster #3 – He rated the Black Chicken as his #1 favorite, the Kraft was his second choice, Grande came in third and the Monte Rosso was fourth.
Taster #4 – She rated the Old Kraft as her #1 favorite, Black Chicken was her second choice, Grande was third and Monte Rosso was fourth.
It should be noted that all of these wines were exceptional – but we were forced to rate them!
Foods that love Biale Zinfandel:
Polenta with Rabbit – Bob Biale
Roast on BBQ – Steve Hall
Rack of Lamb – Dave Pramuk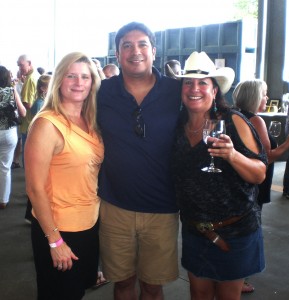 Deanna Baillie loves good wine and great conversation – but her family and Ben, her Australian Shepherd, always come first. Here she shares a glass of wine with Regina and Robert at the Biali Family Winery Release Party.