There is a fine line between work and play when you have
your own business.  I work 24/7, 365 days
of the year. Now, of course I do have down time but at all times, at any given moment I have to
represent my company. Starting today, to most people I will be
going off and having a short vacation, but in reality I have to work for the
next five days just on location for a story. I will be arriving in Monterey
this afternoon and then moving over to Carmel on Sunday for two more days. I
will be touring, networking and enjoying one of the most beautiful places in
the country so that I can bring that location to you, our readers. Be sure to
check the story out in our June/July issue.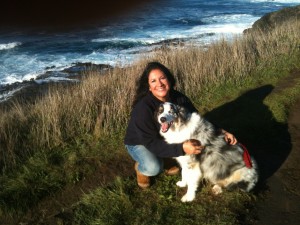 Our first travel piece will be featuring Mendocino in our
April/May issue and we are excited to bring these destinations to you. (Pictured here is Ben and I on the Mendocino Headlands.) On any
given moment here in the Bay Area we are only one to two hours away from some
of the most beautiful cities and towns not just in the country, but in the
world. I will be sending some photos and posts daily so you can keep up with
me. Why not send some thoughts on where you would like us to visit. We could
tell the story of your dream trip, so let us know.
This weekend there is still lots to do right here in your
own backyard. Downtown Benicia Main Street will be hosting their annual
Gal-A-Palooza so be sure to head down First Street and visit the retail stores
and spas for some pampering. A pedicure sounds good!
Whatever you do, get out of the house and enjoy this
fabulous weather!