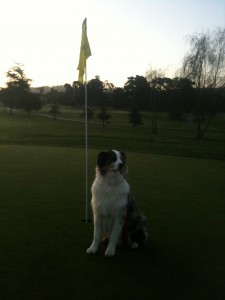 On any given day you can expect good weather in the
Monterey/Carmel area during July through October. But in February can you
expect GREAT weather? I would have said no before this weekend. I am writing this on a patio overlooking the pool where there has been activity since 8 am. It is gorgeous. The golf course was beautiful as we sat outside and drank our lattes and cappuccinos. Ben kept a close
eye on the 17th green!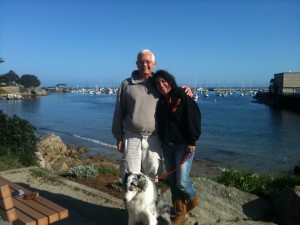 Yesterday we spent time walking along Fisherman's Wharf in Monterey,
had lunch at an amazing sports Bar at the Hotel called Knuckles. (I think we counted 25 big screen TVs!)
Then we had massages and rested until cocktail time in the lobby.
Then the fun really began. We were whisked away in the
biggest limousine I had ever seen, an Excursion stretch, and were taken to the
Carmel Highlands Inn to eat dinner at Pacific's Edge Restaurant. This
experience deserves its own space. The restaurant itself is so beautiful with panoramic
windows and wall size black and white Carmel coast photographs that they really
don't even need to serve great food.
Not the case here! We started with a
Hearts of Palm salad that was incredible. My second course was seared scallops
on top of I don't know but great! Our main course was Sea Bass that the Resort
Manager, JP Doepke, told us was caught that day! The Bass was served with an
Alexander Valley Pinot Noir that was just right. We then finished with a panna cotta
with some kind of crunch crisp that was very unique and tasty!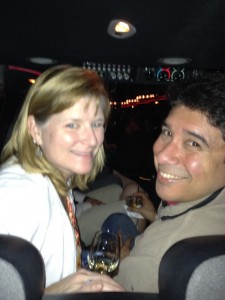 What a fabulous time and it is not over, it looks like
another beautiful day on the ocean and many more activities.
Heading to breakfast on the patio . . .